A luxurious, ultra-matt finish for interior walls and ceilings. Our unique clay recipe results in a hardwearing and highly breathable paint. Deliciously thick and creamy, it goes on like a dream and often requires fewer coats than conventional emulsions. All this and no horrible smells or emissions.
Drying time 6 – 12 hours
Approx coverage 5L: 50sqm 2.5L: 25sqm
Actual coverage will depend upon absorbency of the surface and method of application. Remember, Claypaint may require one less coat than you expect.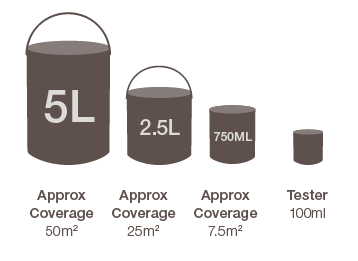 Clay Paint Art. No. Size
White 1216 5L
Color 1218 5L
Frost 1220 5L
Lime Rose 1221 5L
Vanilla 1222 5L
Muddy Boots 1227 5L
Humpty Dumpty 1228 5L
Cricket 1229 5L
Tallow 1230 5L
Paw Paint 1231 5L
Tuffet 1232 5L
Lucy's Scarf 1233 5L
Polka Dot 1235 5L
Woodsmoke 1236 5L
Freckle 1237 5L
Milk Jug 1238 5L
Jemina 1239 5L
Indian Hill 1241 5L
Fresh Air 1242 5L
Whiskey 1244 5L
Welcome 180 GR 1245 5L
Trillby 1248 5L
Trelis 1249 5L
Tom's Bakery 1250 5L
Straw 1251 5L
Smidges 1252 5L
Shallow 1253 5L
Seagull 1254 5L
Riding Hood 1255 5L
Pumpkin Pie 1256 5L
Posset 1257 5L
Piglet 1258 5L
Mitten 1259 5L
Marble 1260 5L
Lily Lily Rose 1261 5L
Lemony 1262 5L
Kissing Gate 1263 5L
Hessian 1264 5L
Greyjoy Den 1265 5L
Fruit Salad 1266 5L
French Linen 1267 5L
Feather Pillow 1268 5L
F & B Yellow 1269 5L
Eyebright 1270 5L
Dark Coco 1271 5L
Daisy Chain 1272 5L
Cupcake 1273 5L
Cat's Cradle 1274 5L
Cambridge 1275 5L
Bone 1291 5L
Bassett 1292 5L
Bandstand 1293 5L
Ballet Shoes 1294 5L
Awakening 1297 5L
Barley Aqua 25/75 1299 5L
Flower Pot 1302 5L
Riding Hood 1303 5L
Jack Horner 1304 5L
Toy Soldier 1305 5L
Reading Room 1306 5L
Button Tin 1307 5L
Storybook 1308 5L
Dark Cocoa 1309 5L
Hidey Hole 1310 5L
Hopscotch 1311 5L
St. John 1312 5L
Little Rascal 1313 5L
Maybe Maggie 1314 5L
Yum Yum 1315 5L
Wendy's House 1316 5L
Eiderworm 1317 5L
Rosie Posie 1318 5L
Inglenook 1319 5L
Bo Peep 1320 5L
Teacup 1321 5L
Gingham 1322 5L
Fiddlesticks 1323 5L
Grasshopper 1324 5L
Mister Toad 1325 5L
Cupboard Love 1327 5L
Sunday Stroll 1328 5L
Picket Fence 1329 5L
Nellie 1330 5L
Rocky Horse 1331 5L